qaplay, audio player, Qt5 and gstreamer0.10 based
qaplay is a small audio player using Qt5 and gstreamer0.10 . It is meant to be used with a filemanager to start playing audio files by clicking on them.
qaplay will play all files in a directory if invoked with a directory name containing music files. Otherwise it will play all files following in ascending order in the directory of the song file it was invoked with.
qaplay shows a systemtray icon, which allows to easily stop playing the current song or select the previous or next.
This comes handy in case accidentally a long sound file has been started, which otherwise would have to be killed via top.
If the playing is not stopped, qaplay will exit at the end of the last file/song of the directory of the song it has been started.
The icon and the tooltip:



The later is shown when hoovering with the mouse cursor over the icon.

The menu after right-clicking onto the tray icon.

The following commands are available: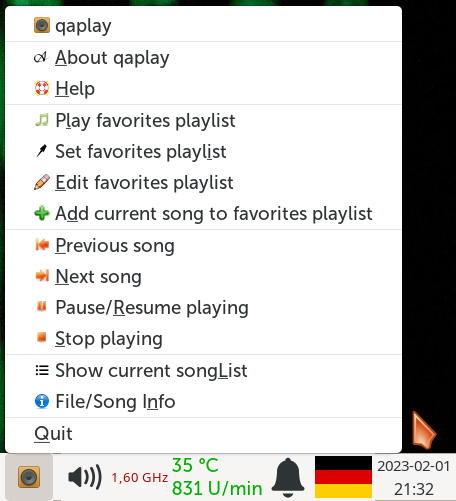 see the online 'Help'
see the program's 'About' information
select the previous song (roll over if 1st song)
select the next song (roll over if last song)
stop playing the sound file, qaplay will exit
show song information (from tag)
not yet implemented:

add song to favorites list
play favorites song list

quit the program

If you use pulse audio, you may be in the position to select the output on the fly - pavucontrol(?).

qaplay only accepts one command line option: the URL of the sound file.

qaplay can be started on the console too with: qaplay song_file

qaplay has to be set manually as the default application to handle a specific audio file (mime) type for the file manager.

Read more in the online help file, accessible by right-clicking on the trayicon when playing a sound file.

Requirements:
- Qt5 (including development files)
- cmake (build tool)
- gstreamer and some of it other packages (not required for compiling qaplay, but to play sound files)
- A systemtray following the freedesktop.org standard (otherwise no icon can be displayed). E. g. waybar shows the icon when using wayland.
---
qaplay-3.0.4 ; 01. Aug. 2022
* add *.mkv, *.mp4 and *.webm to the supported file types and add those files to the directory list to be played (audio only)
* add a text to show if no information of the currently played file can be get
* fixed 2 compile warnings
Source: tar.gz ; signature
Arch Linux: PKGBUILD ; x86_64 pkg.tar.xz compiled with Qt 5.15.5+kde+r174-1 ; signature
---
qaplay-3.0.3 ; 25. Aug. 2020
* fix PKGBUILD
Source: tar.gz
Arch Linux: x86_64 pkg.tar.xz compiled with Qt 5.15.0 , signature
---
qaplay-3.0.3 ; 03. Jan. 2014
* fixed crash playing previous/next file?
* song info updated
Source: tar.gz ; Arch Linux pkg: Qt 5.2.0 package: x86_64 pkg.tar.xz
---
qaplay-3.0.0 ; 03. Jul. 2013
* moved to Qt5
* switched to Qt5-gstreamer0.10 over mplayer
* allow to select previous/next song
Files no longer online.
---
qaplay-2.1.2 ; 15. May 2013
* re-release, updated due to qt4 package change
Files no longer online.
---
qaplay-2.1.2 ; 23. Oct. 2011
* added support to play files in directory, will find files automatically, only plays files below sort order.
* updated menu icons to svg
* online help file updated (credits)
Files no longer online.
---
qaplay-2.0.1 ; 30. Apr. 2009
* maintenance release, Qt 4.5(.1)/x-server 1.6.1 not honouring: showMaximized(), replaced by showFullScreen(), used by show online help
* updated: about n (online-)help icon now linked against the gnome icon theme
* updated: program icon, as license of previous icon unknown
* updated: credits according to the icon changes
Files no longer online.
---
qaplay-2.0.0 ; 19. Dec. 2008
* fixed: exit if error during initial file checks
* updated: tooltip while playing song, now 2 lines
Files no longer online.
---